Shop Our NJ Estate Sales.
Hire Us for Personal Property Liquidation.
Welcome to Wayback!
If you are looking for local NJ estate sales to attend this weekend, see our current listings for Atlantic and Cape May counties.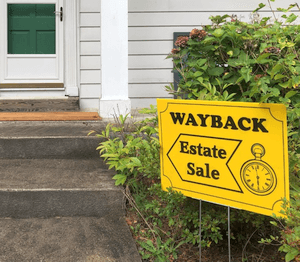 But if you are in South Jersey area and have a house full of goods that need to be sold promptly and profitably, send us a message or give us a call!
You'll be amazed how much money we can recover from selling your possessions - even the things you thought were unsellable. All done in a respectful way, with transparent accounting and a great attitude from start to finish.
Your cherished belongings will get a second life and a perfect new home, where they'll be used well and enjoyed for many years more.
You'll have a huge load taken off your to-do list and a lot of time saved for what's truly important.
But above all, you'll get closure and freed up mental space to move on to the next stage of your life.
So what exactly is an estate sale?
In New Jersey, estate sales are also sometimes called tag sales, home liquidation or personal property liquidation sales.
But no matter what you call them, the idea is still the same: people come to shop your home.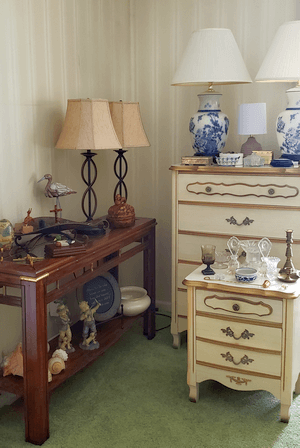 In contrast to garage and yard sales (where only a small portion of your belongings can be sold), with estate liquidation the entire contents of your house are for sale.
And unlike auctions, you don't need to have any collectibles or antique valuables in order to have a successful sale, because even the most basic, everyday household items sell like hot cakes at estate sales!
When done professionally, all your sellable property is first grouped and staged - to make it visually appealing and easy to find. Then shoppers are invited into your house, where they can browse room by room and purchase anything they like. The prices are clearly displayed on all items, but reasonable negotiating is always on. As the sale progresses, the items are discounted further to maximize the sales.
Depending on the size of the estate, the sale can be a one, two or even three day event.
Who needs an estate sale?
Many different situations in life can call for closure and a new beginning. From our own experience serving Southern New Jersey, we see that estate liquidation is usually required when a major life change triggers a need to sell a large volume of personal belongings.
" I can't say enough about Yelena and Mike from Wayback Estate Sales.
We had a wonderful sale that far exceeded our expectations! They are very professional and just awesome to work with.
They are caring and wonderful people who made a difficult time so easy for our family. I would highly recommend them!! "
Maria Lentini
Egg Harbor Twp, NJ

For example, estate sale customers can be:
the executor of an estate who needs the household goods sold ASAP for will distribution;


the surviving spouse who wants to lighten their financial burdens;


heirs of a recently deceased family member who have no interest in keeping the personal property, or who have no space for it;


relatives of an elderly person who's going to an assisted living home;


couples getting divorced and looking to liquidate their shared personal property for asset division;


empty nesters who are ready to downsize and move to a much smaller place;


families relocating across country or to another country and starting fresh;


individuals going into bankruptcy/foreclosure or having to pay off debt immediately;


new homeowners who "inherited" all the old stuff with their house and now need to dispose of it in a cost effective way;


friends or family members of hoarders trying to help clean up the house and yard;


people who need to radically declutter and stage their home before putting it on the market.
Why use a professional estate sale company?
First things first - you don't always need estate liquidators to do your sale.
For example, if you have good experience doing garage or yard sales, and your estate is small and simple, you can probably do it yourself with the help of some family members.
In fact, you may even have to DIY because most local NJ estate sale companies will turn you down if they decide there is just not enough property for them to sell.
But usually, estate sales are much more extensive and overwhelming to handle yourself than any garage or yard sale you may have done. That's because you'll have to deal with literally thousands of items in your house - from the furniture in your bedroom to the paperclips in your desk drawer... and everything in between.
" We interviewed several companies and they all told us we don't have enough things to sell.
Wayback took on our sale and just blew it out!
Not only did they find all those "hidden" things in our drawers, cabinets and closets that could be sold, but they actually made us 3 times more money than even our most optimistic hopes! "

Jerry Sentella
Ocean City, NJ

So the reality is, you do need the help of professional estate sellers if:
you don't have 2 weeks of free time in your schedule to prepare for the sale (because that's how long it takes even a crew of professionals to set everything up);


you don't have enough experience to tell what's still sellable and what's really trash (for example, we've sold even half used shampoos and tissue boxes that the owners wanted to throw away!);


you don't know how to research and price things, so that they are appealing to bargain hunters but also make the most money for you (this balance is very important because you make exactly $0 if the item doesn't sell);


you don't have the skills to organize and stage everything for maximum appeal and engagement (people shop longer and buy more if the sale is set up a certain way);


you are emotionally attached to your property and not good at negotiating (it's easy to lose hundreds or even thousands of dollars over a small discount you refused to give);


you don't have access to a large customer base and don't know how to bring hundreds of shoppers to your sale every day (without a lot of traffic, your sale is doomed even if you did everything else right)...
 ...because instead of saving money by doing the sale yourself, you may end up not making much at all.
If You Need to Sell It All,
Give Us a Call!
(609) 904-5034